TurksLegal is committed to diversity and inclusion as we recognise the differences among us as a source of strength and instrumental to our success.
We are proud to be one of three national finalists in the 2021 Lawyers Weekly LGBTQI+ Champions of Pride Awards and to be listed in the top ten firms in Australia for Female Partners by the Australian Financial Review (AFR).
Turks is also certified as fully compliant with the requirements of the Federal Government's Workplace Gender Equality Agency (WGEA) and is a signatory of the Law Society Charter for the advancement of women in the legal profession.
To foster understanding and education, we run six monthly 'Inclusion Matters' seminars for our staff and clients on important social matters. Recent seminar speakers have included The Hon. Michael Kirby AC CMG, Human Rights barrister, Kate Eastman AM SC, The Hon. Julie Bishop, Mental Health Advocate and Winner of the 2016 Indigenous Human Rights Award, Joe Williams, and in October 2021, we will host Paralympic Gold Medallist, Annabelle Williams.
Read on for more about our D&I Charter and D&I Behavioural Framework.
Our Diversity & Inclusion Charter (driven by our Diversity & Inclusion Committee) promotes an environment where people are valued, respected, accepted and supported to succeed to the best of their abilities.
"TURKS" is our widely promoted behavioural framework, which stands for: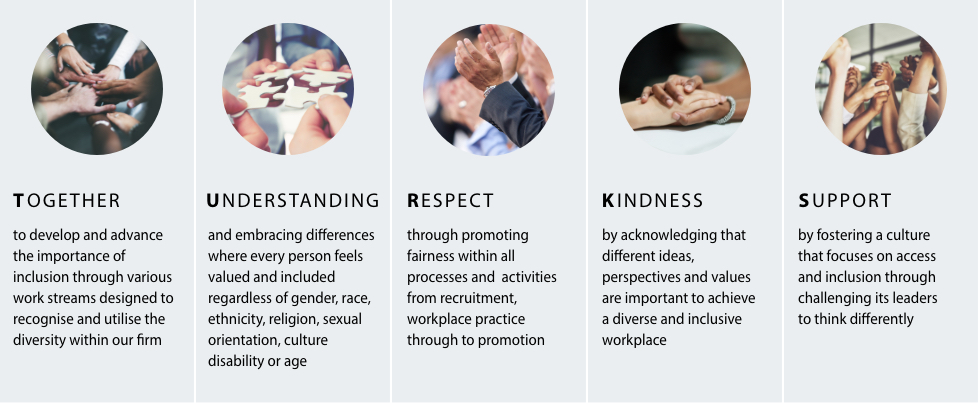 Our Diversity Streams are listed below:
Turks Recruitment
Focused on increasing our pool of diverse candidates.
Turks Gender
Promoting gender equality balance across the firm and focussed, in particular, on the attraction, development and engagement of women at all stages of their careers.
Turks Flexibility
Promoting, encouraging and supporting flexible work practices to balance professional and other commitments.
Turks Families
Providing meaningful support for working parents and working carers to achieve success at work and at home.
Turks LGBTI
Fostering awareness and understanding of LGBTI and celebrating a culture of inclusion.
Turks Multicultural
Celebrating the ethnic and cultural diversity of our employees and facilitating a culture of inclusion by increasing awareness of the breadth of experiences amongst our team.